Just a quick hello to any visitors who may be new to the area having read Part 1. I'll put a little note as to what is going on here with the 2012-366 stuff at the end if you're interested, but otherwise we'll just jump back into your regularly scheduled program.
It was getting pretty late on the same day of the tournament as I wrapped my last post, so we'll pick up with a few more details from the third game I can remember now that I'm not in an exhausted state (I also fixed the score sheets in the last post so they are properly oriented). First off, I had calculated before the game that, while we were playing one of the remaining undefeated teams in the third game, we only had to defeat them by more than one run to leapfrog them in the standings by virtue of tiebreaker (Reminder: we did so 27-4, giving us identical 2-1 records but affording us the first tie breaker of fewest runs scored against). Secondly, I remember that, while proudly boasting that I only got out once in the last post, my first hit was a sky high pop to second into the sun that was infinitely playable, so let's hear it for retroactive, non-sleep deprived humility. Thirdly, sausage (yes, you had to be there). We may now proceed to the playoffs, commenced by this reminder picture:
After what seemed like the appropriate amount of time, I went into the club to check the standings and playoff bracket. We made it as the fourth seed and would once again be playing on the Dodger Stadium field. Going outside to announce this to the team, I was then greeted with the one question I didn't have an answer for, "Who are we playing?" because, well, you know, I forgot to look. Running back inside I note that, while we had leapfrogged the team we just played in the standings, no one else had leapfrogged them so we would be playing them again (they earned the fifth seed). Since the first and second seeds got the bye I looked up one level and found that the team we played in the second round had earned the number one seed and would be waiting for us in the next rematch should we prevail in our first rematch.
Now by merely stepping onto the field for the fourth game I had accomplished my main goal for the day, which was to get more than the minimum guaranteed three games (which was the sad fate for 8 of the 14 teams). Doing so and having a shot at avenging our only loss should we win? Pure gravy. We had to wait for the last game to finish at Dodger Stadium which took us right past the scheduled start time, then had to wait a little bit more for field maintenance and warm ups.
After playing all three of our previous games as the visitor we were finally able to be the home team (due to seeding), which was a little sad in that we couldn't directly carry over our offensive roll (though that had probably been a little blunted from the delay anyway). Over the course of the day I lived up to my advanced offer of playing any position necessary by playing catcher, first base, second base, third base, left field, and right field at various times, and this was the game where I started in left. The first out was a fly ball nearly directly at me which let me settle down a bit (although nothing else came to left while I was out there). If I remember right, the other team mounted a bit of a rally in the first inning, but we didn't allow any runs to cross the plate. Our offense proceeded to more than match the previous game, going 15 batters before the first out was recorded. We wound up besting our first game score, winning this one 27-2 (and this is why I keep score during our league games, as I don't remember how I did outside of one later at bat, a line drive that went down the right field line and landed on the chalk – easy extra bases if not an inside-the-park home run – but the umpire ruled it foul as I blocked his view going down the line. With the score being what it was I was disappointed but fine with it, although when I deposited the next pitch behind second base for a single I did point out that I hit it as far from any lines as possible to help make it easier for everyone. That got a laugh, although I really should get out of these parenthesis before they become self-aware and eat this blog post).
We had taken care of business and earned a spot in the semi-finals with another shot at the one team that had beat us. I had the hope that maybe a crucial variable had changed between the games and we could somehow hold them to about the same amount of runs while the intervening victories had sparked our own bats back to life, but, while we did do better in the first inning on offense (as visitors again due to seeding), the boom was lowered on us in the bottom of the first (quite literally, as I was playing catcher and one of their guys hit a three run home run outside of the entire complex onto the hill beyond where the air just vibrated on impact). We took our 31-7 drubbing (although I was disappointed since I was playing catcher all game and of the 31 runs, not one of them was a close play at the plate) and figured this was probably the team to beat in the whole tournament. About half the team stayed to watch the finals, an 18-11 victory for the team that had defeated us (although they made some uncharacteristic errors early, leading to our queries of "why didn't they do that for us?").
I cannot overstate what a great time I had and how much I loved our team. I don't know what the odds are of randomly picking twelve people (well, ten others, as I'm included in that count and had recruited Brian) and having such a great blend of personalities and abilities (I maintain that while we were tied for third place overall, we were first place – non-ringer division, as it was quite obvious that a significant portion of the team that beat us had played together before). There is not a single player on the team that I wouldn't love to play with again, and I will be a little disappointed if there isn't some way for us to get to play again should this event become an annual tradition. Here's our team picture from Dodger Thoughts (I'm second from the right, and I'm not sure how I got my arms to look that big):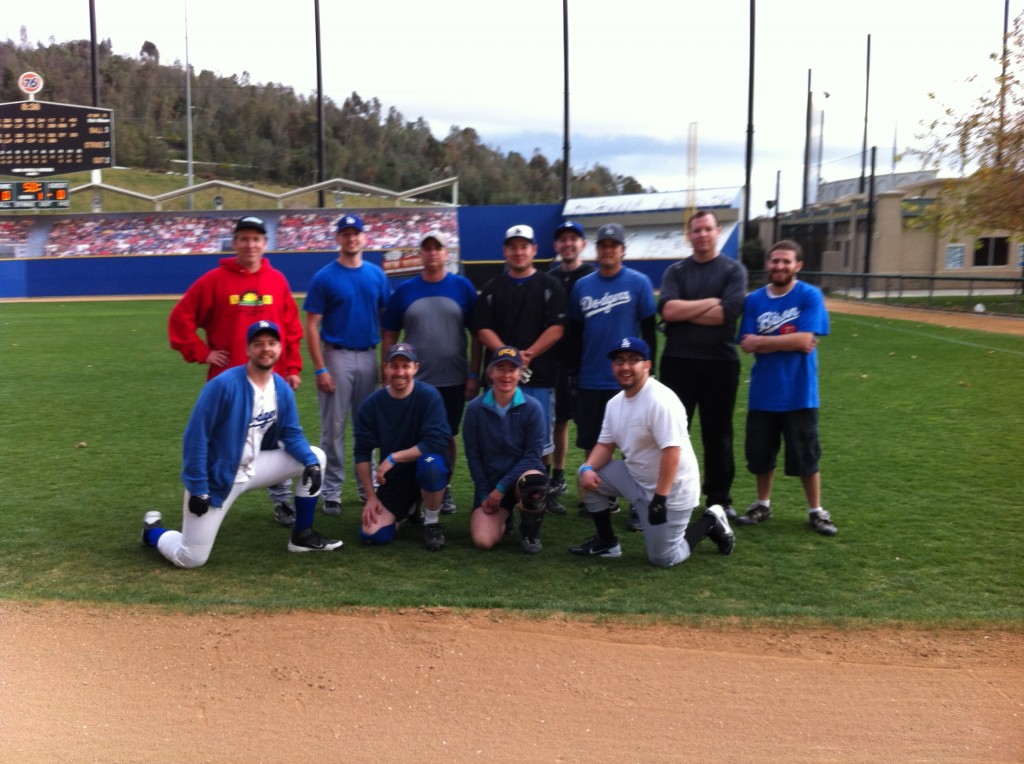 So again, thanks to the Left Field Pavilion blog for putting this together, thanks to Jon for writing Dodger Thoughts and having me on his team, and thanks to everyone who came out to participate, especially our team, for making this a spectacular memory and event.
NOTE: Softball stuff is over, so if you want to go now, feel free, I understand. Onlytwopeople.com is a blog my wife and I put together (as we have often said we are the only two people who could put up with each other as a married couple) and, as a New Year's resolution I committed to writing a blog post everyday this year (hence 2012-366, as there are 366 days this year with leap year). It is a creative exercise for me to get my writing juices flowing again and as such I don't expect huge traffic (if any), but would love it if anyone wanted to stick around for the ride. I also love doing things like this tournament that guarantee at least 1 or more guaranteed topics, as I'm realizing that 366 is a lot!
Weight: 233.4 Max: 240 Min: 233.4 Body Fat %: 24.7
Yearly Mileage: 23.2 miles
Current Belt: Purple – Next Belt: Orange – Next Test Date: 3/3/12
Fitocracy Level: 13 (16925 points, 325/3000 to next level) – ID: disciplev1