That was totally awesome, just a great experience. Since the location (Big League Dreams) is out in West Covina, I had to get out of bed before 7 am on a Saturday. (Boooo!) After getting everything together, I swung by to pick up Brian, who had answered my call when I sent out a message stating that we had room for one more player. We loaded up the car and headed out, with our first game scheduled in an hour and a half (at 9 am).
The drive down was uneventful, and we pulled up to the gigantic complex with a bit over a half hour until game time. After getting told that I couldn't bring my Powerade in and a return trip to the car, we entered the facility and attempted to track down our team. This was easier said than done because, again, this place was huge. I knew our first game was on the Fenway replica, so we headed that way after determining our team was not by the Dodger Stadium field. We finally found them on the other side of Fenway, the far side of the complex, as I recognized our coach from pictures online. Most of the team was there already, so a quick round of introductions familiarized ourselves with the people we would end up spending most of the day with.
The game before ours ended and we took over the third base dugout. We were determined to be the visiting team by coin flip, and we prepared to get our first at bats against the Save the Dodgers team.
The environment was very special, and we started our game with a bang (well, there were a lot of walks involved, so maybe not quite a bang) by scoring a ton of runs in the first inning. I was batting tenth this game (the lineup was handled very simply, order of arrival, and we had 12 people overall) and walked on three straight pitches, all of which were well inside, which was disappointing because I was looking for an outside pitch to take to right field to take advantage of the weaker fielding over there. I wound up scoring a couple batters later (forgive the lack of detail as to how, but it was a long day with a lot of softball). I came up to bat in the second inning with two runners on and saw the first pitch start in, but then start tailing back outside. I jumped on it and lined it three feet inside the right field foul line, where it skipped past the rightfielder and headed toward the wall. I'm not sure what happened next, as my head was down running, but I'm told that the ball rattled around a bit out there and I was able to touch them all for our first home run.
I actually hit the ball better in my third at-bat, getting it over the right-centerfielder's head, but was held at third for a triple (knocking in two more runs). In my final at-bat, I thought I might fool them by pulling the ball, and wound up flying out to left-centerfield (I told everyone that if I got the double I would claim a total bases cycle using the walk instead of a single). We won the game handily 30-4. Fielding-wise I did not get a single ball hit to me in right field or at 1st base the last inning. Probably why I look so bored in the background of this picture on Dodger Thoughts: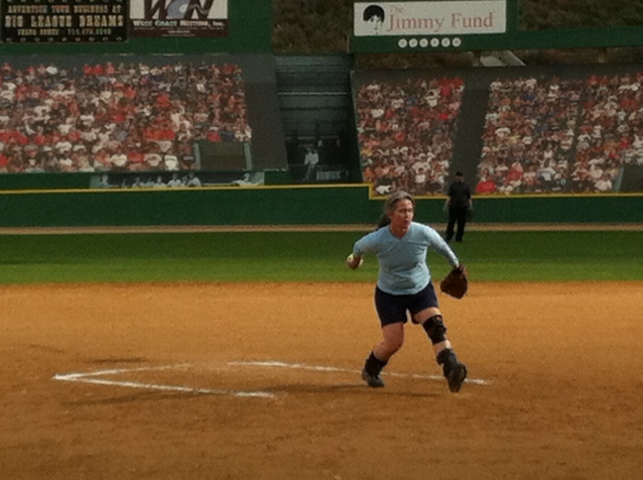 At this point we didn't quite know what to make of our team. Yes, we had scored a ton of runs, but frankly a lot of them were gifted to us. We didn't want too big a head going into the next game, little did we know what we were walking into. . .
Since we were all teams based around Dodger blogs, the tournament directors wisely chose to make sure that each team got to play at least one game on the Dodger Stadium replica. It was great to see all the little details put in, even if the Diamond Vision didn't really work and the far right field bleachers were a little washed out for some reason. We were visitors again and this time flipped the line up so I was batting third. Rather than the hot start of last time, this time we were facing an extremely competent defense and were made short work of (I got one of the handle and flew out). The other team then came up and proceeded to crush the ball (most of the team looked like they played for the local colleges). We never could mount much offense (I went 0-3, all fly balls) and went down 11-2.
Our lunch break arrived and we retired to the Stadium Club restaurant for some pizza and soda. It was decent enough fare, but since we all hadn't ate much, we gobbled it up. Since the club had views of all the stadiums, we were able to watch the team we were going to play next while we were eating. I kept going back and forth between the tournament score sheet and where we were sitting until I finally got the bright idea to take a picture:
It came down to this, the top six teams (out of fourteen) made the playoffs, and at 1 and 1 we were around fifth or sixth with four undefeated teams left in the tournament. The team we were going to play next was one of those undefeated teams, but they had drawn a favorable schedule and we were pretty sure we could handle them. We moved to our third stop, Tigers Stadium, were made visitors yet again, and got ready to try and win our way in to the playoffs.
We switched back to our lineup for the first game and went to work. We put up ten runs in the first inning and never looked back, ending up winning 27-4 (I don't even remember how many times I got up, but I remember I only got out once on a grounder off the handle late in the game). Having taken care of business, we only had to wait and see what the final standings would be and what seed we would have if we made the playoffs. I did manage to continue my streak of appearing nonchalantly in the background of the pictures at Dodger Thoughts, however: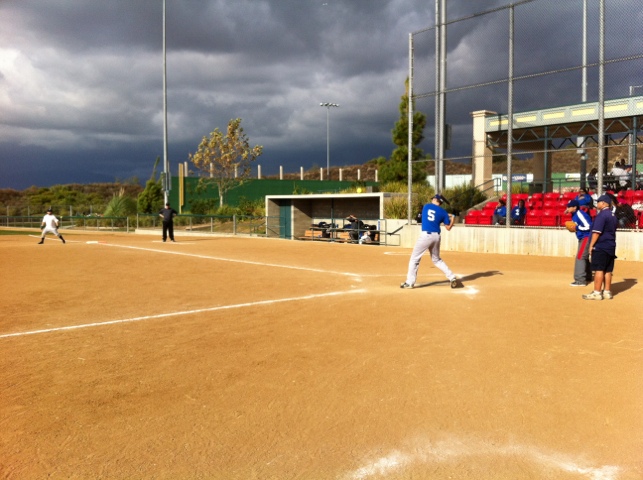 Since it's late (and you probably figured this out from the title), to be continued. . .
I'll leave you with this preview:
Continue straight to Part 2.
Weight: 233.4 Max: 240 Min: 233.4 Body Fat %: 24.7
Yearly Mileage: 23.2 miles
Current Belt: Purple – Next Belt: Orange – Next Test Date: 3/3/12
Fitocracy Level: 13 (16925 points, 325/3000 to next level) – ID: disciplev1